Published July 2016
One of the most important elements of a healthy relationship is time spent with each other and away from the stressful realities of daily life. For some, a weekend (or longer!) spent away from things like work and children is necessary to maintaining the heat and closeness of a loving relationship.
While everyone's ideal vision of romance is different, most will agree that things like seclusion, awe-inspiring sunsets, candlelit dinners, and romantic B&Bs top the list of must-haves during a romantic weekend away. For those people, we've found 20 romantic small towns that have all of this and more! Although there are certainly more than 20 places in America to rekindle a romance, we based our selection on the following: opportunities for both privacy and couple-friendly activities, romantic restaurants and hotels, and general ambiance.
1. Amelia Island, Florida

Located a few miles off the coast of Florida, charming Amelia Island is a far cry from the over-the-top glitz of places like Miami. The Island offers 13 miles of pristine coastline for sunset walks along the beach, or even horseback riding in the shallow surf (it's one of the few places left in the country where this is legal). The Island's quaint downtown is lined with historic inns, B&Bs, and restaurants that were once the grand Victorian mansions of the wealthy. An especially romantic — and in demand — B&B is the Fairbanks House, a Victorian-era home filled with such romantic things as fireplaces, four-poster beds, and claw-foot tubs.
2. Aspen, Colorado

Aspen has long been the go-to destination for celebrity and other A-list couples, and it is the perfect place to enjoy a day of adventure followed by a relaxing evening spent by the fire. Aspen has plenty of romantic hotels and inns to choose from; The Little Nell and the St. Regis are especially romantic and popular. For a romantic evening of shopping, strolling, and eating, head right downtown for truly special restaurants like Cloud Nine Alpine Bistro where you can simultaneously enjoy a romantic dinner and stunning views. If you aren't in town during any of Aspen's many festivals or snow-related events, spend some time together skiing the world-class slopes in winter and hiking some of the most pristine forest areas in the world during the warmer months.
3. Bar Harbor, Maine

The beautiful natural scenery of Acadia National Park — complete with granite cliffs, acres of pine trees, and lots of wildlife — makes Bar Harbor, Maine a perfect getaway spot for those looking to get closer to nature. In the 19th century, Bar Harbor was a summer resort for New England's wealthiest, and many of this quaint town's B&Bs, restaurants, and shopping sections are housed in former shoreside mansions (we like the Tudor-style Harborside Hotel, which boasts stunning views of Frenchman Bay). Though a visit to Acadia National Park for a hike or bike ride is a must-do, be sure to check out Bar Harbor's pristine beach, too. High granite cliffs tower over white sandy beaches against the backdrop of the Cadillac Mountains in the distance, the perfect backdrop for a romantic walk along the shoreline.
4. Beaufort, South Carolina

The South certainly knows how to do romance, and Beaufort, South Carolina is the epitome of southern charm. One of the oldest towns in South Carolina, Beaufort was founded in 1709, and most of its stately old homes and buildings still exist in the form of charming Bed & Breakfasts One of the most popular B&Bs for couples is The Anchorage Inn, but if you can't get a room there, there's no need to worry — Beaufort's selection of hotels and inns rank among the best in the country for romance. Couples won't have trouble finding romantic activities to fill their time in Beaufort. Chambers Waterfront Park is the perfect place to spend a quiet evening watching the water, while a stroll or horse-drawn carriage ride along the Boardwalk or downtown is a great way to take in Beaufort's picturesque scenery and fascinating history.
5. Cambria, California

Located halfway between Los Angeles and San Francisco, Cambria, California is a gem of a small town located on the famed Pacific Coast Highway. Cambria is nestled between beach and mountainscape, so couples won't be hard pressed to find an inviting ambiance here. A romantic walk on the beach often includes sightings of whales or dolphins off-shore and a glimpse of the elephant seal colony that has made a part of this beach home. To really take advantage of those ocean views, hike up along one of the many trails that wind along the coastline. During the evening, Cambria's picturesque downtown is the perfect place for a stroll among the art galleries, cafes, restaurants, and live music performances. While in Cambria, head to nearby Hearst Castle for a tour of this amazing mansion.
6. Carmel-By-The-Sea, California

Located 122 miles from San Francisco, Carmel is a coastal paradise and easily one of the most beautiful beach towns in the nation. While you won't find large resorts here, the town boasts plenty of fairy tale-type cottages and guest houses to keep lovebirds cozy come bedtime. During the day, couples can wander the picturesque downtown and enjoy art galleries (Carmel is a haven for artists), local cafes, four-star restaurants, and exclusive shopping (think Louis Vuitton and Tiffany & Co.) before spending the evening walking the beach at sunset or relaxing around a bonfire. And keep your eyes out while you're there — Carmel is one of the go-to spots for the rich and famous.
7. Fairhope, Alabama

Leave the bustling atmospheres of Destin and Sarasota behind for the solitude of Fairhope, Alabama. Located on the scenic Gulf Coast, Fairhope is chock-full of historical charm. The area was a hot spot during the Civil War, and the former Confederate hospital stands today as the ritzy Marriott in town. While not on the beach, couples can stroll hand-in-hand along the five rivers that converge here, or through Fairhope's charming French Quarter, where they'll find dozens of locally owned shops and even the largest crape myrtle tree anywhere in the South (called the Alabama Champion Tree, it makes for a perfect photo spot).
8. Franklin, Tennessee

There are few places as popular as Nashville these days, but music-loving couples on the search for Tennessee charm without the massive hordes of people will be glad to know that Franklin, Tennessee is billed as "14 miles and 100 years" away from busy Nashville. While a trip into the busy music capital is well worth it for sights like the Country Music Hall of Fame and main stretch of downtown, lovebirds will love Franklin's town-square charm, red-brick-paved roads, and intimate live music venues like Gray's on Main, a former drugstore where couples can enjoy both live music and a delicious meal. For a really romantic afternoon, head to nearby Arrington Vineyards, where you can buy a well-stocked picnic basket and enjoy the beautiful scenery and free live music on the weekends.
9. Friday Harbor, Washington

Located on Washington State's San Juan Island, Friday Harbor has long attracted honeymooners and other lovebirds looking for a romantic small town getaway. Friday Harbor is the perfect place to spend a day exploring on foot. Wooden-frame houses from the early 1900s set the tone for this former fishing town, and many of the local shops, art galleries, and restaurants are housed in charming historic buildings. Friday Harbor House is one such restaurant where diners can enjoy a multi-course fresh seafood meal while looking out over views of the beautiful San Juan Channel. During the summer, live music and theatre productions are held under the stars near the downtown. But whatever time of year, couples shouldn't miss a whale-watching cruise. Though whales can often be seen right from the shore, the coastal waters of Washington have proven time and time again that it is one of the best places to get up close and personal with the magnificent animals.
10. Harbor Springs, Michigan

Located along the shores of Lake Michigan's scenic Little Traverse Bay, Harbor Springs has been a hotspot for tourists and lovers for more than a hundred years. Couples searching for a romantic getaway will find Harbor Springs to be inviting at any time of the year, with festivals and concert series especially common in the summer and fall. Great picnic spots are plentiful in Harbor Springs' many parks, and lovers shouldn't leave town without a drive through the Tunnel of Trees. This section of the M-119 highway is famous for its natural beauty, especially in the autumn. To complete the visit, book a stay at The Bartley House, where couples can enjoy mountain views and the largest hot tub in the Midwest.
11. Ithaca, New York

Those looking to be surrounded by stunning natural landscapes while on their romantic getaway will be well pleased with Ithaca, New York. There are more than 100 gorges and waterfalls in the surrounding areas, including the eight waterfalls of beautiful Cascadilla Gorge, a popular spot for a smooch and a photo. Spend your days in Ithaca hiking the many beautiful trails, or explore the renowned Cayuga Lake Wine Trail to taste some of the region's delicious wines and cheeses. Best of all, Ithaca is located in central New York, an easy drive for those looking to escape Manhattan and other bigger New England cities.
12. Lana'i, Hawaii

Maui and Kauai may be the islands of Hawaii most associated with lovers and honeymooners, but the much smaller island of Lana'i is well worth consideration when it comes to finding a quiet Hawaiian retreat. Nature lovers will be awed by all that Lana'i has to offer, from its remote beaches, to its unique rock formations, to its colorful underwater reefs. Munro Trail offers some of the best hiking around, and is so secluded that couples will need an off-road vehicle to reach it. The same goes for Shipwreck Beach. Both sights are well worth the extra effort. Back in the main "downtown" area of the island, couples can have their pick of a variety of luxurious hotels and first-class restaurants for romantic evenings indoors.
13. Montauk, New York

An easy trip from New York City, Montauk is chock-full of romantic charm and much more relaxed than the nearby Hamptons. The centerpiece of Montauk is the 200-year old lighthouse. Just as Kate Winslet and Jim Carrey did in the romantic film Eternal Sunshine of the Spotless Mind, make the trek up the 137 steps to watch the sunset on the Atlantic horizon. As you're enjoying Montauk's beaches, be sure to have a pair of binoculars handy to better spot the seals and whales that hang out just off the coast. During the days, lovebirds can enjoy a variety of romantic activities, including swimming and kayaking, exploring Hither Hills State Park, hiking along the pristine coastline, or enjoying Montauk's quaint downtown area. End the day with dinner at Navy Beach, where you'll feel as if you're dining on a luxury yacht. As you're looking for accommodations, consider the Montauk Yacht Club, an 80-year old hotel that recently underwent a multimillion dollar renovation.
14. Provincetown, Massachusetts

An easy getaway from Boston, Provincetown, Massachusetts offers visitors plenty of salty seaside charm and myriad charming B&Bs in which to spend a romantic weekend away. Though the town is busiest during the summer, couples will find plenty to do here at any time of the year. Hiking and biking opportunities don't get much better than those at Province Lands Bicycle Trail, which rewards one's exertions with stunning views of Cape Cod Bay. Back in the picturesque downtown area, lovebirds can stroll hand-in-hand past charming locally owned shops. Stop in for a book of poetry by local authors at Provincetown Bookshop, or visit Cabot's Candy fudge for something sweet.
15. Skaneateles, New York

Pronounced "skin-ee-at-luss," this quiet waterfront town in New York's Finger Lakes region is chock-full of romantic ambiance. Originally founded in 1833, Skaneateles is home to an impressive collection of historic buildings, many of which now welcome guests as B&Bs. One such inn is Aunt Louise's Lake House, which dates back to the 1840s, while couples looking for romance at the Sherwood Inn, a former stagecoach stop, can enjoy a fireplace in their private room. Skaneateles is a popular summer destination, but those on a romantic getaway can enjoy activities like couples cruises on the Lake and midnight skinny dipping all year round. The surrounding Finger Lakes region is also well-known for its beautiful scenery and many wineries.
16. Sonoma, California

While nearby Napa tends to get all of the attention, we think Sonoma offers couples the better romantic getaway. Plush area hotels (like the Spanish-style Fairmont Sonoma Mission Inn & Spa) are romantic destinations all on their own, but couples should fill their days here enjoying the surrounding countryside of world-class wineries and scenery. On a nice evening, there is no better place than Sonoma's downtown. Centered around Mission San Francisco Solano, the historic main square offers plenty of boutique shopping, benches for sitting and people-watching, quaint ice cream parlors, and amazing restaurants like The Girl & the Fig.
17. St. Simons, Georgia

St. Simons, Georgia has a long reputation as one of America's best places for a romantic getaway. Easily accessible from a number of places on the southern Atlantic seaboard, St. Simons is located on Georgia's Golden Isles and boasts plenty of opportunity for solitude and seclusion. Spend the day under the live oaks on St. Simons pristine white-sand beaches, with a break for lunch at any of the nearby cafes. Stroll hand-in-hand among the downtown antique shops, or for something more active, bike or hike to the picturesque local lighthouse. Though lovebirds have their pick of charming inns and B&Bs, the 34-room St. Simons Inn is easily one of the most sought after, likely because of its stunning views of the lighthouse and water.
18. Stowe, Vermont

Stowe, Vermont is the perfect destination for snowbirds. Stowe is both rugged and charming, and lovers are sure to appreciate its quiet outdoorsy ambiance. The Stowe Mountain Lodge is a great place to start your romantic weekend away, and guests will enjoy the fireplace in each room. A sleigh ride through the woods is like something right out of a romantic movie of yesteryear, while more adventurous couples can enjoy the slopes at nearby Mount Mansfield. During warmer months, a drive through the beautiful countryside and quaint nearby towns is especially enjoyable. In the evenings, grab a reservation at Stowe's many renowned restaurants, such as Solstice, which Travel & Leisure called one of America's most romantic restaurants.
19. Telluride, Colorado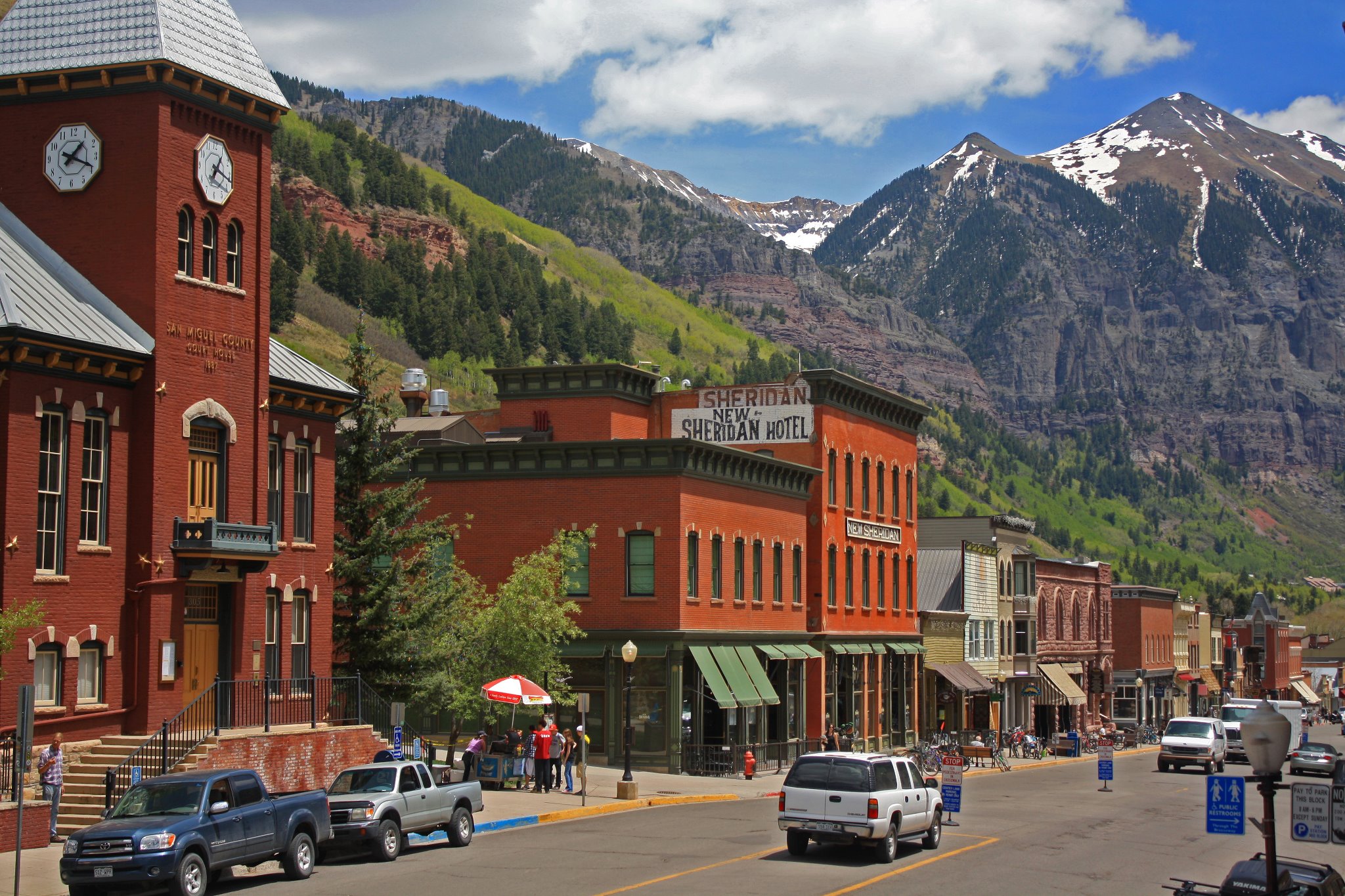 One of the most romantic elements of a weekend getaway is isolation, and with only one road into town open year-round, no place says privacy quite like Telluride, Colorado. Located near the southwestern corner of the state, Telluride is surrounded by the San Juan Mountains and offers stunning views perfect for a romantic rendezvous. Speaking of views, lovers will love the experience of hopping onto a gondola and looking out over the nearby scenic canyon. Back in town, colorful Victorian homes are nicely juxtaposed amongst the charming Western-ness of the downtown area, a perfect place for a leisurely afternoon stroll.
20. Traverse City, Michigan

Traverse City has been steadily climbing the list of trendy getaways for more than a decade now, and lovers looking for a few romantic days away aren't likely to be disappointed by this small lakeside charmer. Traverse City declares itself the cherry capital of the world, and even if you can't make it for the annual festival, be sure to experience the local cherry culture. Head to Sleeping Bear Dunes National Lakeshore for a couples hike, or if the leaves have turned their flaming autumn colors, take a drive through the stunning countryside. While Traverse City certainly isn't lacking in the charming B&B department, Chateau Chantal is especially popular, and offers its visitors its own wines, big breakfasts, water views, and a history straight out of Hollywood (it was founded by a former priest and nun who later fell in love).